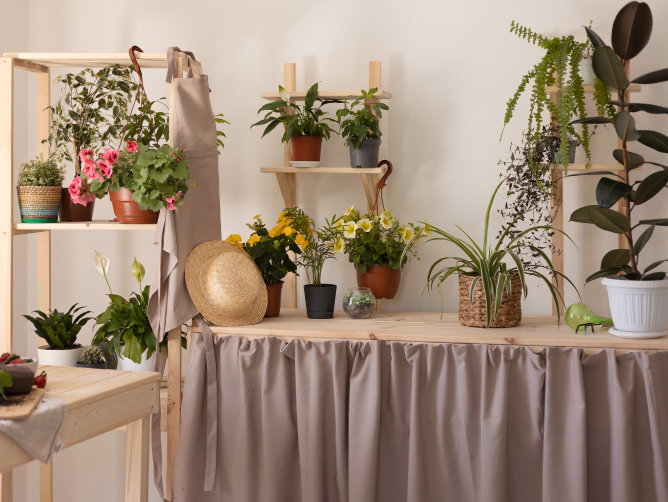 The Weaver's Nest Trade Program
We humbly invite retailers, architects, interior designers and resellers to participate in our exclusive The Weaver's Nest Trade Program. We are delighted to offer you all an opportunity to access our exquisite and artistic collection of home décor items and make the most of our special trade prices!
Learn More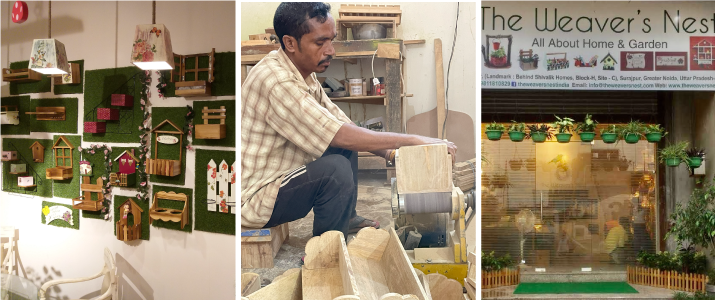 Produced Locally!
All our products are handcrafted locally and sustainably sourced by our skilled in-house artisans, meeting social and environmental standards.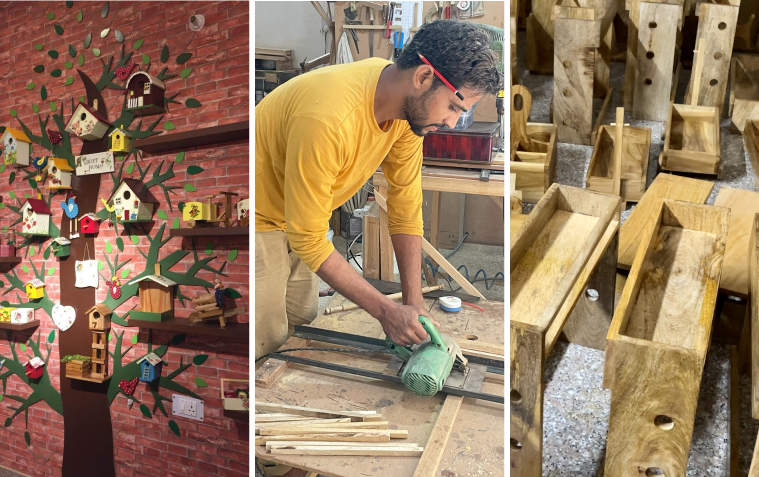 Who We Are
The Weaver's Nest was founded with the simple goal of creating a diverse range of aesthetic products of high quality and utility.
We are a small manufacturing unit based in Greater Noida. We started this journey more than a decade ago with the purpose of making Little Birdies cosy and comfortable with our Signature Handmade Birdhouses.
From Birdhouses and Wooden Planters we gradually transitioned to Home Interiors.
We incorporate a blend of traditional, handcrafted and low-tech methods to produce our goods, resulting in unique and eye-catching designs that can enliven your interiors and exteriors. Our roller coaster ride to create products for you, with you in mind continues….
Let customers speak for us
Christmas spirit
I received my Christmas decor and it's just like the picture. It came properly packed. It's a very beautiful and delicate work. Very talented person.
Vintage Wooden T Light Decor
I am really sorry to say that I have not yet recieved the product. I have been getting notificatiobs that the item will be delivered. I have not yet recieved the same
The Weaver's Nest Solid wood Wall Mounted Electric Iron Holder, Laundry Room Iron Storage organizer
About wood bench planter
No words superb high rated qualitymust buy
The Weaver's Nest Wooden Bench Planter with Figurine for Home, Porch, Balcony, Garden, Living Room
Awesome home decor item.
The Awesome finish with high quality wood and with light wooden framework adds to its good looks. The multi utility innovative item is unique and eye catching. It's a true value-for-money product. I loved it.
The Weaver's Nest Teak Wood Table Lamp with clock and organiser for Home, Living Room, Study Room, Bedside Tables (Brown, 15 X 15 X 33 cm)
The Weaver's Nest Teak Wood Wall Mounted Toilet Paper Holder with Shelf for Restaurants, Hotels, Bathrooms and Washrooms.
These beautifully designed colorfully hand crafted wooden caddy from TWN now adorns the dining table of my friend Bhavna, who also happens to be a nature lover.
The Weaver's Nest Spoon Stand Cutlery Holder and Table Organizer with Storage for Kitchen and Dining Table
Best Product
I am a sucker for roosters.. Couldn't have asked for a better tissue holder than this in my kitchen... Its just so Perfect.
Thank you Weavers Nest for bringing in such a lovely collection of home stuff.
Totally the kind of stuff that I love.
The Weaver's Nest Wooden Hen Kitchen Towel Holder/Tissue Paper Stand for Kitchen, Restaurants, Hotels (L 15 x W 13 x H 27 cm)
Amazing product quality
I gifted this planter to my parents on their wedding anniversary.
It now sits magnificently on our dining table, giving us awesome company from "Subah Ka Chai" to "Raat Ka Chaas".
I would recommend this as an amazing gifting product! Not only acts as motivation to grow more greenary house, but a great conversation starter as well.
The Weaver's Nest Old Couple Wooden Bench Planter
Great Product
Have been using wooden planters from weavers for 3 years now and was impressed with the design , quality and durability till date . When I had to buy a kitchen towel holder I knew it had to be from Weaver's Nest . It is aesthetically designed making it both pretty and useful , convenient.
The Weaver's Nest Wooden Paper Towel Holder/Tissue Paper Stand/Roll Dispenser for Washrooms,Restrooms, Restaurants, Hotels (L 20 x W 12 x H 27 cm)
The Weaver's Nest Wooden Towel Holder/Rack with Shelf for Kitchen, Restaurants, Hotels and Bathroom
Excellente
Good quality, size n finish.
The Weaver's Nest Wooden Cutlery Holder/Multipurpose Holder with Figurine for Dining Table (18cm x 15cm x 23cm)
Highly Recomended Product
Excellent Product!! I highly recommend this.Very very good Quality..Same as shown in the Picture,actually more better than that...And I have to mention that the sellers interaction with the customer is really very pleasing and polite .
Received the product in time.Very Pleased .
The Weaver's Nest Wooden Containers/Vases/Planters Holder Black Tray with White Pot for Indoor(34x14x22cm)
The Weaver's Nest Solid Wood Table Utility Cart
Nice product...
Very nice product.....beautiful finish. Looks very nice on my dinning table. Love it .
The Weaver's Nest Wooden Cutlery Holder with Salt & Pepper for Kitchen Dining
Very cute and useful
I loved it. Would definitely recommend it.
The Weaver's Nest Beautifully Painted Cart with 3 Glass Jars